Large or small, every gift on #BonaGivingDay supports
the people, programs and places across campus that matter
in the lives of our students.
Cassidey Kavathas is a sophomore journalism major from Lancaster, New York. She serves as managing editor of The Bona Venture and news director of WSBU-FM, 88.3 The Buzz. She volunteers as a peer coach and is also a reporter for TAPintoGreaterOlean and PolitiFact NY. A recipient of three scholarships, she has proudly achieved dean's list status each semester. Below is Cassidey's Bona story in her own words.


The road to St. Bonaventure University is different for everyone. I like to consider my path unique. Believe it or not, I didn't want to come to Bonaventure. It was actually my mom who forced me to go to Communications Day and tour the school. Mothers are always right as the second I set foot on campus I felt like I came home.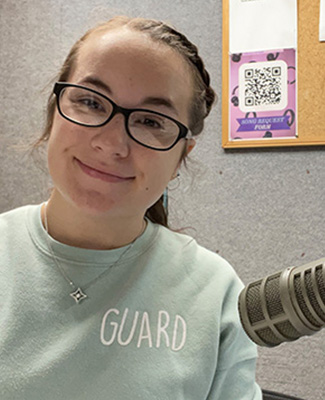 The sense of community that surrounds Bonaventure is unlike any other. Even as a prospective student the community welcomed me. My first time on campus Aaron Chimbel, dean of the Jandoli School of Communication, went out of his way to introduce me into this family. At the time, I was struggling to find internship and job shadow opportunities in the journalism field due to being a high school senior. Dean Chimbel reached out to our network of alumni to help me even before I was considered a true Bonnie.

Through the dean, I met Bob McCarthy, '76, a veteran political reporter for the Buffalo News. Bob invited me to shadow him in the newsroom during the debate for Erie County Executive in 2019. Just like Dean Chimbel, Bob welcomed me into the Bona family before my application to the university was even submitted. The night I spent shadowing him not only ignited my need to pursue journalism but confirmed that there is nothing like being a part of the Bonaventure community.
At an admissions event and my first-ever Bonnies basketball game at the KeyBank Center in Buffalo, I received an unexpected surprise. I met Bob again, this time with his wife, Ann Flynn McCarthy, Class of 1974. She welcomed me with open arms just like any Bonaventure alumni, student, faculty or staff would. Bob informed me that he was at the event to speak. You can imagine my surprise when he started speaking about me as he stood at the podium in front of everyone. It was during this speech he officially welcomed me into the Bona family, unveiling my acceptance to the university.
As a sophomore, I'm blessed with the sea of opportunity that engulfs me at Bonaventure. I am honored to hold the positions of managing editor of our newspaper, The Bona Venture, and news director of our radio station. I believe that I wouldn't have excelled as much without the true welcome into the community by Dean Chimbel, who shared a free T-shirt and a warm smile the first time we met. It is also through the mentoring skills of Bob McCarthy that I have realized my genuine love of journalism and writing.
---

For Tyler Carro, a fifth-year MBA student, Bona's is a place of strong bonds and phenomenal mentors. From finding his home as a Bona Rugger to realizing his strengths in leadership, his time at St. Bonaventure has been life-changing. Below is Tyler's Bona story in his own words.

It's funny how important a snowball fight can be in the grand scheme of things.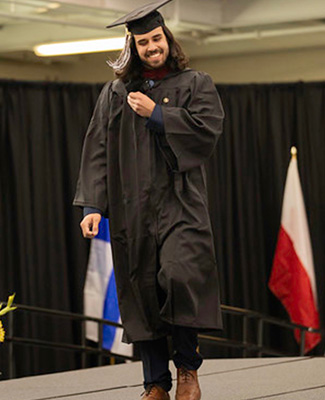 When I became a Bonnie, I'll be honest, this school was by no means my first choice. At the time, I had no idea what I wanted to do — but I did know that the last place I wanted to spend what was supposed to be the best four years of my life was knee-deep in snow in Allegany. As a legacy student who had the privilege of visiting my brother at Bona in his early years here, there was not a single trip that went by where the car ride home did not contain bittersweet sighs of relief as we left the "tundra" my brother decided to go to school in.
My first year here, for some ridiculous reason I felt like I had something to prove and decided to be a chemistry major. As a former president of our on-campus advertising agency I can now say it was the single stupidest thing I ever did. I loved science in high school, specifically chemistry, but I was not passionate enough about it to make it my life, which it needed to be if I wanted to succeed. My chem teacher was the most fascinatingly weird guy I had ever met, so obviously I took three years of chemistry just so I could study him from afar. Over those three years, he became a mentor to me and is a great deal of the reason I can now say I will never take a chemistry class again; something he was truly proud to hear me say one year later. When I told him I was going to school to be a chemistry major, his response was, "If you do that, try your hardest, but promise me you will give up before it is too late."
I was so shocked, I wasn't even capable of being offended until later that night, at which point I was under the impression he thought I was wasting my time chasing a degree I was not smart enough to achieve. While I certainly struggled during my one year as a chemistry major, it wasn't the classes that made me change. I lost a close friend my freshman year to suicide and after coming home from his funeral to an empty 3rd Fal room, I started trying to put my life in perspective. I started by thinking of what I wanted to do in my life before it was too late and suddenly those words from my chemistry teacher came flooding back and I finally realized what he meant. He knew then, before I was mature enough to realize myself that I was only trying to prove something by taking a major that is well known for being difficult to succeed in. He also knew that I needed to come to this conclusion myself, otherwise I wouldn't be able to leave all that behind.
Only a few days later, as my friends and I were walking through a blizzard from Allegany back to the dorms, I heard Kyle "Pot Roast" Ciquera and several other upperclassmen on the rugby team yell to us from across the street. We were met with a barrage of snowballs flying at us like a scene from Lord of the Rings. That snowball fight persisted the entire walk home and led to the most important night of my life. That night, I was taken aside by Pot Roast at Mansion, the rugby house, and asked why I hung out with the freshman on the team having never played rugby in my life. In admittedly the most long-winded response I could have formulated, I basically gave a guy who I had met only a few weeks ago my entire life story because I, too, was trying to figure out how I ended up with 40 rugby players in a house from the 1800s at 3 a.m., somewhere I hadn't felt I belonged until after this conversation. He then asked why I was not around more often, for which I had a much more reasonable answer: "I am a chem major."
I will never forget how much he laughed at me after I said that. He went on to explain that he was just surprised because it seemed like the exact opposite of my personality. He then said, "You should just give all that up and play rugby, it'll be good for you." As I looked around at the group of men in that house, against all proper judgement, I actually took him seriously.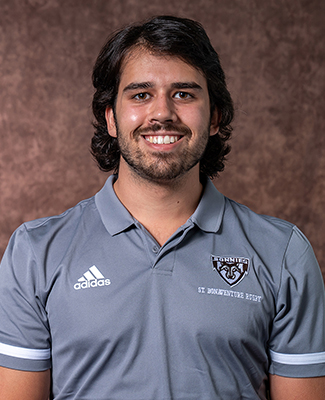 Two months later, I will never forget going to play rugby for my first time ever in the Richter Center. Coach Tui Osborne happened to be running with the boys. Terrified, I walked onto the court and thought I was playing horrendously. At the end of the session, he came up to me and gave me what I now know is such simple advice, but it was the perfect amount of information to get me back to the next session with the confidence to learn more. Three years later I can say joining the rugby team was the best thing I have ever done for myself, and I attribute all my success at St. Bonaventure to the values I learned from that team and the men I am now lucky enough to call my brothers.
I went on to drop my major and reach out to every upperclassman I knew, trying to find some direction. Before I knew it, I was invited to Professor Mike Jones-Kelley's house to meet him for the first time over a meal he was preparing for us. This was when I started to realize that I was not only on the right path here at Bona, but I was starting to meet the right people as well. However, it wasn't until I explained what happened to my friends from other universities that I realized truly how special that act was. Not many schools have professors who would cook a meal for a random freshman because they think they are interested in advertising, let alone put their reputation on the line by allowing them to join the prestigious on-campus advertising agency with no prior experience.
Our on-campus agency, Kwerkworks, takes a trip annually to New York City to compete in the national competition sponsored by the American Advertising Federation. I missed the first day of the trip because I had a rugby tournament and ultimately ended up partially tearing my meniscus. With all the work we had put into that campaign, however, I was not about to miss our pitch to the client, so I drove separately with my dad to the city at 5 a.m. the next day.
If I can say one thing about the entire experience, being on crutches for two days in New York City is exactly as awful as it sounds. The faculty purchased transportation for me to the club events and coordinated with every restaurant and agency we were visiting to ensure they had proper accommodations for me. I asked for none of this because I was already ashamed that I had missed the first day of the trip. Yet these professors, some of whom I had never met, did so because they thought it was the right thing to do. That was my first year in the agency, and I will never forget the wave of kindness I felt from the staff and students on that trip.
When we returned, it was time to apply for the next year's officer positions. Being that I was only a sophomore, I thought it would be a good idea to work in a different department to diversify my experience in hopes that I could be president or vice president in my senior year. After deciding that and heading off to the bathroom during the voting, I returned to find my name on the board under the title of president. The current president, who is someone I continue to look up to, told me that I was the most capable bad*** in that room and I deserved to take over the agency. Her confidence in me that afternoon is something I still go back to, and it led to me giving, what I am told, was an awesome speech that I genuinely cannot remember a single word of because I blacked out the second I stood up to talk. That day I was named the only junior unanimously voted president of the agency. We placed third in the competition the following year, the highest in school history.
Our 2018-19 rugby captain, Eamonn Matthews, used to have a saying that became a sort of mantra for our team. I am not sure where it came from, but it always stuck with me: Leave the jersey better than when you put it on. That idea drove me in everything I did both on and off the field in the three years that followed. The best part about it, the Bona community put me in a position where I was excited to put in the work. So many people at this school gave me chances that I didn't think I deserved because they saw something in me and wouldn't let me fail.
After having surgery during my senior year, I called Eamonn and said I was pretty sure my playing days were done. I went on to say that I felt like I had failed him and the coaches because I was unable to leave an impact when they had given me all the tools I needed to succeed in the program. He didn't even let me finish before he told me how stupid I sounded. He went on to explain that even though I was no longer playing and would soon be leaving Bona altogether, I was now in a better position than ever to continue leaving that jersey in a better place than I got it.
That extended to everything I did in my final semester at school because I finally saw the opportunity to give back to all those people who gave me the chances I didn't think I deserved. I realized giving back to them meant succeeding in my own life so as to put myself in the best position possible to give those same chances to future Bonnies so they can succeed as well.
It is almost surreal and definitely a cliché how fast this school and one snowball fight can change your life.