#GivingTuesdayatBonas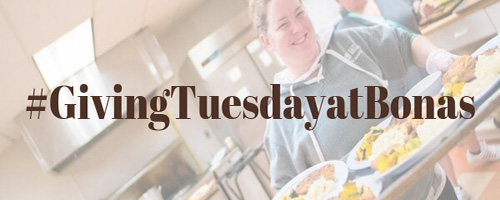 The Franciscan Center for Social Concern aims to raise $40,000 for service and social justice programming on campus. Can we count on you to join in now through December 3 with a gift for #GivingTuesdayatBonas?

Several longstanding and beloved FCSC programs will be the focus of this year's event: Bona Buddies, a youth mentoring program; Silver Wolves, connecting students with elderly residents at a local assisted living home; Break the Bubble, organizing service trips during the fall and spring breaks; the Warming House, the nation's oldest student-run soup kitchen; SBU @ SPCA, offering SBU students the opportunity to support the work of the local SPCA; and Farm To Table, a summer program providing students hands-on experience with sustainable agriculture and service at the Warming House. Three new FCSC programs will also be featured: Bona Scouts, an after-school program that uses scouting to teach skills and form friendships; Friends with Sisters, pairing Allegany Franciscan Sisters with SBU students for weekly meetings that develop relationships and understanding between young adults and elderly religious women; and the SBU Food Pantry, offering support to those within the SBU community who are experiencing food insecurity.

Your generosity will touch the hearts of many.