Helping a student take the next step toward his or her career is the purpose behind Bona's popular Buzzy Fund.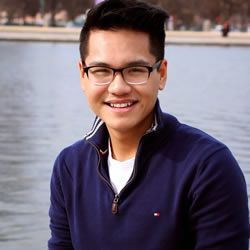 Bobby Nguyen, '20, a cybersecurity major from Ho Chi Minh City in Vietnam, hopes to one day work as a cybersecurity analyst for the FBI or the CIA.
As an international student, Bobby chose to attend St. Bonaventure "because of its tight-knit community and endless opportunities."
He is currently an RA, a Residence Life Spoke Leader for Mt. Irenaeus, a member of the Math Club, and a Bonathon caller for The Bonaventure Fund.
Bobby received a grant from the Buzzy Fund to cover the cost of preparing for and taking the CompTIA Security+ certification and the Certified Ethical Hacker certification.
"Receiving the Buzzy Fund award means a lot to me ... not only will it help me develop necessary skills to be successful in my field, it also shows me that I am taking actions for myself and am one step closer in preparing for my future," said Bobby.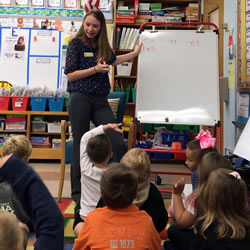 Interest in St. Bonaventure's School of Education first brought Sophia Kucharski, '19, of Buffalo, N.Y., to campus for a tour -- while the "friendliness of both staff and students" made her decide to make Bona's her academic home.
Sophia has long held a dream of working with children and becoming a teacher. As a junior Special/Elementary/Early Childhood Education major, those dreams are about to become reality.
Thanks to a grant from the Buzzy Fund, Sophia is able to pay for her teacher certification exams, which cost approximately $1,000.

"Certification exams are expensive and this is one major weight lifted off my shoulders," Sophia said. "I am so thankful for the Buzzy Fund. It means that my dream of becoming a future educator is a lot closer."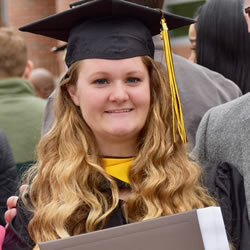 While earning her master's degree in childhood literacy at St. Bonaventure, Elizabeth "Lizzie" Austin, '18, of Fillmore, N.Y., is serving as the graduate assistant for Enactus.
During the final semester of her undergraduate year, Lizzie's family faced unexpected financial difficulties. In addition, because Lizzie was student teaching, this was the first semester she was unable to work. She didn't have the funds needed to pay for her GRE or teacher certification exams. That's where the Buzzy Fund helped.

"The Buzzy Fund allowed me to take the GRE so I could begin my graduate studies at St. Bonaventure upon receiving my bachelor's degree. It also provided me with the funds to sumbit my edTPA, Educating All Students and Students with Disabilities Certification exams," Lizzie said. "My family and I are incredibly grateful for the assistance."

A grant from the Buzzy Fund is allowing Philippe "PJ" Neubauer, '19, of Manhattan, to prepare for graduate exams, plus will also cover the cost of testing.
"Receiving funding from the Buzzy Fund gives me the opportunity to prepare for graduate school in a timely manner," PJ said.
As a sport studies major with a concentration in sports management, PJ said he wants to impact the sports industry in any way he can. "By going on to graduate school, I will have the opportunity available to include administration studies with my undergraduate sport studies, and can work in the professional sports leagues and higher education for athletics."
For Ellen Kibbe, a 2018 graduate from Harrison Valley, Pa., with a double major in English and secondary education, a grant from the Buzzy Fund allowed her to apply for teacher certification upon graduation, which helped her land a long-term substitute teaching position.

"I used the Buzzy Fund my senior year to cover the costs of my teacher certification exams and also for my graduate school applications. I was definitely worried about not having the funds to cover both," Ellen said.

Now she's in the classroom teaching English this summer and is heading to graduate school in the fall.

"I'm incredibly grateful that I had the opportunity to use the Buzzy Fund. I hope future Bonnies have that same opportunity," she said.