MEET EMILY KNITTER
CLASS OF 2018

When I was younger I hated school. So when a recruiter cold-called me and asked if I'd ever thought about the Army, I leapt at the chance not to go to college. I completed my senior year laughing at all my friends panicking over admissions essays and SATs.
After spending five-and-a-half years in uniform, I was medically discharged in 2014.
At the time, college seemed like the easy answer when I had no clue what to do next. Since my experience had been laughing at colleges rather than applying to them, I had no idea what to look for. I picked the college closest to where I happened to be living at the time and went for it.
Big mistake.
The school was not a good fit for me, professionally or personally. The Veteran Support office left me feeling like I was just another number in the database and I felt isolated from the other students. The entire situation was something I wasn't ready for mentally. I started skipping classes and pretty soon I was failing. I finished my second semester there and never went back.
Being someone who's always felt smart and successful, this was a huge blow to my confidence. Around this time, I also started having severe panic attacks and I felt like my life was unraveling all at once. Read more>>
MEET GREG KAHLE
CLASS OF 2019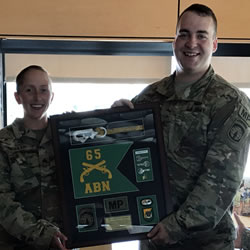 I served in the United States Army as a Military Police Patrolman from 2012 to 2017. During my time, I was stationed at USAG Schweinfurt, Germany and Ft. Bragg, North Carolina.

Since joining at 18 years of age, I gained knowledge and maturity, as well as, developed the professional skillset that has molded me into the individual that I am today.
While serving on active duty, I worked law enforcement which included the same trials and tasks as civilian law enforcement. When I joined, and for the majority of my contract, I did not ever view college as a proper option for me. I always viewed my future as working in the law enforcement/corrections field long after my Army time was over. I guess I had really not put a lot of thought into my future.

Even after deciding to go to college during my last few months of active duty, I still hadn't made a concrete decision on what I wanted to do with my life. It wasn't until having a long talk with a family member that I decided business was the route I wanted to take. Read more>>
MEET ROBERT PETRUCCELLO
CLASS OF 2019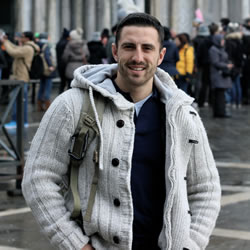 In December of 2007, I was sitting at the recruiter's office with my mom and dad. I glanced over at my mom, tears running down her face knowing that I, her oldest son of 17 years, wanted to join the Air Force as soon as I graduated from high school.
Serving in the military during a time of war was the greatest honor of my life. It brought out what it means to be a human. The best part was the comradery. We're in this environment where we will literally do anything for the person to our left and the person to our right because we literally love them and we need them.
In 2015, I separated from the military.
As much as I enjoyed my military experience, I felt like I was ready to leave on good terms. I felt that it was the thing to do. I probably had unrealistic expectations about how awesome life was going to be when I got out.

Bottom line, getting out was just really hard. Service to America unknowingly put strain on my life. When you're performing at such a high stress level all of the time, and everybody else and all of your friends are doing the same thing, you convince yourself that it's normal. Read more>>
MEET LAWRENCE MACDONALD JR.
CLASS OF 2018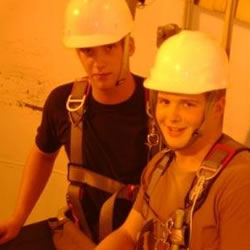 I served in the United States Air Force from 2006-2012 as a Missile Maintenance Technician at F.E. Warren Air Force Base, Wyoming. I grew up in the Olean, NY area and knew before graduating high school that I wanted to follow the family members before me and serve in some capacity. Conversations with then Master Sergeant and my Uncle Robert MacDonald, led me to enlist in the Air Force at the age of 19 and that experience would change my life. I lacked discipline and the work ethic to see a task to its completion, and if anyone who may be reading this has served in any capacity, the lack of either is typically corrected first upon arrival at Basic Military Training.

I consider myself lucky to have experienced military service the way that I did. I may not have made it a career, but the tools to set me up for success, that all my supervisors and leaders along the way, provided have enabled me to take advantage of opportunities that come my way. A phone call to admissions in St. Bonaventure would be the catalyst of that change. Read more>>


MEET MELINDA ANICK
CLASS OF 2019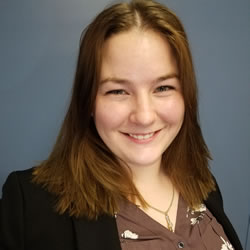 I come from a family of Marines and police officers. My uncle, father, older sister and younger brother are all Marines. My uncle (the Marine) and my mother were both New York State Police Officers. I have another uncle who is a DNR Officer. I am very proud to be a part of such a giving family. We all try to give back to the community as much as we can.
I went into the Marines right out of high school. I was in the Marine Corps for five years. I won't say it was all roses, but I am so glad I did it.
I was lucky to be able to get a lot of travelling out of the experience. I began my training in Parris Island. I personally enjoyed boot camp. It was eye-opening and allowed me to see where I really stand among my peers. Read more>>



MEET DR. PAULA SCRABA, O.S.F.
ASSISTANT PROFESSOR OF PHYSICAL EDUCATION
Sending veterans on a pilgrimage to Assisi, Italy, has been a 10-year mission of love for Dr. Paula Scraba, O.S.F.

An assistant professor of physical education at St. Bonaventure, Scraba (called Dr. Paula by her students) comes from a large military family and understands the challenges veterans can face after reentering civilian life.

"My dad was a schoolteacher by trade and put all six of his children through college; he was in the Army National Guard. So in my family, we're either schoolteachers or full-time military," she said. "Supporting student veterans is very much a part of my DNA."

Dr. Paula said that helping student veterans develop a strong sense of self is important to her, as is providing support. Read more>>