Challenge gifts from alumni launch campaign for SIMM
Hoping to inspire others, St. Bonaventure University alumni Christopher and Eileen Kinslow and the advisory board of Students in Money Management (SIMM) have issued a $16,250 challenge match as SIMM launches a six-week crowdfunding campaign.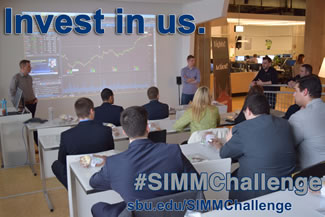 Titled the #SIMMChallenge, the fundraising initiative aims to boost the level of the student-managed investment portfolio as well as sustain and enhance the SIMM student experience, both inside and outside the classroom.

Founded in 2004, SIMM is an experiential learning program in which students in any major can learn about the investment process while helping to manage approximately $500,000 in real financial assets.

The Kinslows and advisory board members will match gifts to the campaign, dollar for dollar up to $16,250, beginning September 18 through October 31. The Kinslows have pledged $10,000 as a challenge, with the board members funding the remainder of the challenge.

"Our hope for the campaign is that it will inform a greater number of alumni about the SIMM program so that they will be excited to not only donate financially, but participate with the students by inviting them to their companies or by coming to Bona's and meeting with the students and sharing knowledge," said Eileen (Madigan) Kinslow, a 1986 St. Bonaventure graduate who holds a BBA in accounting.

Members of the advisory board include: Tony Annunziato, '71; Ed Evans, '85; Bridget Karg, '08; Chris Kinslow, '85; Sean Lynch, '06; Kevin Mjaatvedt, '11; Chris O'Donnell, '86; and Rene Pochop, '86.

"With the new investment into the fund, we'll use that to give each student a better learning experience every day in the classroom," said Gunnar Schifley, a senior finance major and co-general manager of SIMM. "We hope the St. Bonaventure community will take on the SIMM Challenge and invest in us."

Read on to learn more about SIMM...

---


Engagement with SIMM empowers students; leads to jobs


Stop by St. Bonaventure's Dee Financial Services lab any time a Students in Money Management (SIMM) class is scheduled, and you will likely find the room filled to capacity — even on a sunny Friday afternoon of a get-away weekend.

"People are eager to be part of SIMM," said Sydney Cassagnol, a senior finance and accounting major, who noted the high level of freedom its members are allowed. "We have a lot of control and are given the opportunity to present ideas that we are really excited about."
Lancour finds her footing in the business world at Bona's



Samantha Lancour became involved with SIMM in her sophomore year. The senior finance and accounting major from Hoosick Falls, N.Y., wanted more experience in her preferred field.

"I was looking to get involved with more clubs on campus, and had heard great things about the club, so I figured I would give it a try," she explained.

She really immersed herself in the program in her junior year, and now serves as operations manager for the organization, which allows her to interact with many students, as well as alumni.


Kinslow family's investment in SIMM yields big dividends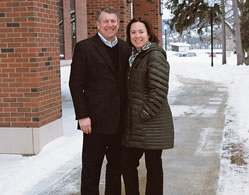 Since its founding more than a dozen years ago, SIMM has offered its members a breadth of experience and high degree of autonomy in managing a real-life investment portfolio.

From honing hard and soft skills to opening career doors, engagement with SIMM has resulted in student success — and its most active investors and co-founders, Christopher and Eileen (Madigan) Kinslow, couldn't be happier.

Read more>>



From Bona's to Wall Street: The power of SIMM
For Ryland Wiseman, a class of 2017 accounting and finance major, his time in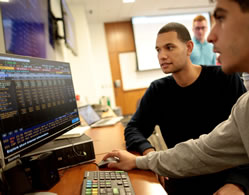 SIMM helped him turn an internship into a full-time job on Wall Street.

"I learned skills in SIMM that I used every day on the job, starting with the basic one-minute markets and industry updates we did daily," Wiseman said.

Read more>>





SIMM Makes the Difference for Alex McLaughlin, '16 ('17 MBA)

A fascination with the stock market in high school led Alex McLaughlin to major in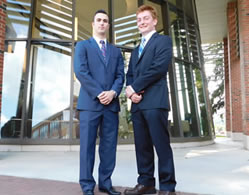 finance. Being a member of a legacy family brought him to Bonaventure.

Alex earned a BBA with a major in finance in 2016 and an MBA in 2017. Today, the Wellsville, N.Y., native is employed at CitiGroup as a balance sheet control analyst — a position he was offered weeks before he finished graduate school this past May.