Kim Senecker, '17
Major: Accounting
Hometown: Fairport, N.Y
Staying involved at St. Bonaventure

Written by Amelia Kibbe, '17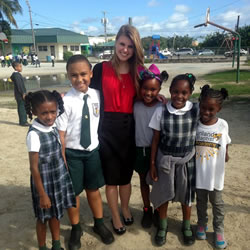 It's the busiest time of the year for senior Kimberly Senecker.

That's because as tax season heats up, the accounting major spends extra time working with the local Volunteer Income Tax Assistance program, a university-run group commonly known as VITA.

"It's for lower-income families," she said, explaining as of now, she spends about two days a week helping out. "We do their taxes for free and try to save them as much money as possible. This service program allows us to get real experience while helping the community."

However, she always finds time for her other obligations—ENACTUS and an accounting club, as well as a new business consulting club, she said.

A desire for campus involvement led Senecker to St. Bonaventure in the first place, she said.

After visiting nearly 10 schools, Senecker took some advice from her high school accounting teacher—a Bona alumnus, of course—and headed to Cattaraugus County to check out the Franciscan university.

"I just fell in love with the school," she said. "I loved that it was small and that the professors would actually get to know who I was. Then add in the scenery, which is just beautiful with the mountains in the background, and it was definitely the choice for me."

And luckily for her, St. Bonaventure gave her a financial aid package that made her decision even easier.

"It really was affordable, even more so than some SUNY schools, when you figured in all the scholarships…" she added.

Soon, as her group of friends expanded, Senecker began exploring the Greater Olean area.

"I actually met my best friend at orientation," she said. "The group of friends I made my freshman year—I know I am going to be friends with them forever."

After her May graduation, Senecker plans to complete her MBA before taking the CPA exams and joining an accounting firm.

Even then, though, she'll always remember to put St. Bonaventure on her calendar.

"I definitely want to come back to the school, for basketball games and reunions," she said. "My goal is to be able to give back to the school as much as I can. I would love to help students who are like me."

Amelia Kibbe is a senior journalism and English major at St. Bonaventure.