Vanessa Hulse, '17
Major: Chemistry
Hometown: Morris, NY

Growing her faith at St. Bonaventure
Written by Amelia Kibbe, '17

As a high school senior, Vanessa Hulse didn't generally pay much attention to the large number of college advertisements she got in the mail nearly every day.

But, she said, she's sure glad she took a closer look at one for a small, rural Franciscan University tucked away in the Allegheny Mountains.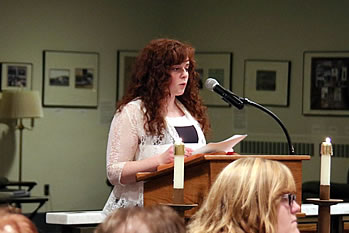 Because that led the Morris, New York, native to St. Bonaventure.

"It came down to two schools," Hulse, now a senior, said. "They were both good schools. I made a pros and cons list and St. Bonaventure came out on top. While visiting the other school, I felt like a young freshman, you know, bottom of the rung. At St. Bonaventure it was like, 'Welcome home.'"

. . .

Looking at her to-do list for the day, Hulse knows she's got a packed day ahead of her. Classes, chemistry labs, tutoring and club meetings.

But, she said, she still fits in time for daily Mass.

Hulse said the Franciscan tradition at St. Bonaventure has allowed her to continue to grow in her Catholic faith—a huge part of how she lives her day-to-day life.

"St. Bonaventure makes it easy to live out my Catholic faith," she said. "Other schools I looked at, I would have had to travel for Mass. At St. Bonaventure it's right here and I can be a part of it."

Every week, she helps run the Search Club, which organizes religious retreats for local high school-aged children. Additionally, she serves as one of the student ministry leaders, coordinating all Eucharist Ministry activities.

All of this, she said, is possible because of alumni donations she received as scholarship aid.

Now, as graduation is less than three months away, Hulse hasn't lost the love for chemistry she had when she first enrolled in the School of Arts and Sciences.

"It was my favorite subject back then," she said. "And it's what I plan on doing as a career."

And, with the university's Career and Professional Readiness Center, she's been working on planning her future.

While she waits to hear admission status from graduate programs, she is also busy looking for entry-level research positions, excited to use the knowledge she has gained studying chemistry the past four years.

But first, she said, she can't wait to enjoy her last few months at the school she has come to love.

"I am going to miss walking across the hall and always finding a friend," she said. "I am going to miss hanging out with my friends. It's not a big production, but I am so sad to let it go."

Amelia Kibbe is a senior journalism and English major at St. Bonaventure