While #BonaGivingDay lasts just 24 hours, the impact of your gift can last a lifetime!
Just ask the students whose lives you touch with every dollar donated...
Vanessa Hulse, '17
Major: Chemistry
Hometown: Morris, N.Y.
As a high school senior, Vanessa Hulse didn't generally pay much attention to the large number of college advertisements she got in the mail nearly every day.

But, she said, she's sure glad she took a closer look at one for a small, rural Franciscan University tucked away in the Allegheny Mountains.

Because that led the Morris, N.Y., native to St. Bonaventure.
"It came down to two schools," Hulse, now a senior, said. "They were both good schools. I made a pros and cons list and St. Bonaventure came out on top. While visiting the other school, I felt like a young freshman, you know, bottom of the rung. At St. Bonaventure it was like, 'Welcome home.'"
Learn more about Vanessa Hulse, '17
Dominic LoVallo, '19
Major: Journalism and Mass Communication
Hometown: Buffalo, N.Y.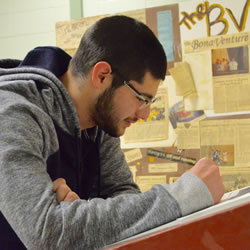 It's approaching 3 a.m. Thursday morning, and sophomore Dominic LoVallo picks up a red pen and begins editing a printed page in the newsroom of the student-run paper at St. Bonaventure.

Staying up nearly all Wednesday night is common for LoVallo, a sophomore journalism and mass communication major, who just began his second semester as the managing editor of The Bona Venture. He's awake early Thursday though, back in the newsroom helping editors with final touches before sending the pages to be published first thing Friday morning.

None of this stops LoVallo, a native of Buffalo, New York, from being alert during his time on duty as a resident assistant for freshmen, even though that means at least one more late night each week.

But it's this kind of commitment and dedication that LoVallo thrives on at St. Bonaventure, he said.
Read more about Dominic LoVallo, '19
Kim Senecker, '17
Major: Accountin
Hometown: Fairport, N.Y.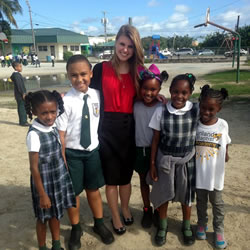 It's the busiest time of the year for senior Kimberly Senecker.
That's because as tax season heats up, the accounting major spends extra time working with the local Volunteer Income Tax Assistance program, a university-run group commonly known as VITA.
"It's for lower-income families," she said, explaining as of now, she spends about two days a week helping out. "We do their taxes for free and try to save them as much money. It allows us to get real experience while helping them out as much as we can in the community."
However, she always finds time for her other obligations—ENACTUS and an accounting club, as well as a new business consulting club, she said.
Learn more about Kim Senecker, '17